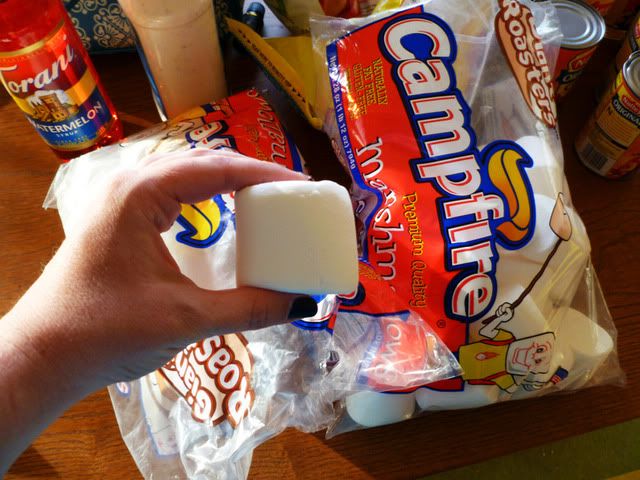 (photo from CJane's blog)
They are absolutely GIGANTIC marshmallows. Honestly, they are much bigger once part of one is in your mouth. I could barely finish ONE, and that one made me feel siiiiick. The boys clearly had no problem and ate several:
On Saturday we had a pretty great day up at Deer Creek Reservoir in Provo Canyon. I sat and ate cherries/cinnamon bears/Pringles and enjoyed the boys' tomfoolery for hours--it's amazing how they can create entertainment out of thin air. Eventually Council Bluffs and Emily showed up with a Wave Runner--unfortunately, pregnancy stopped me from participating. It really did look fun.
(Probably the closest these boys have ever been to each other)
We had a fun, relaxing time. Now that I actually know about this place, we'll probably go back. Better equipped with, say, swimsuits.
Things will be much easier once I'm not pregnant. Of course, then we'll actually have a baby, which makes life difficult again. Shoot. There should be an in-between rest period!